Morning I was watching a movie by Satyajith Ray, the master filmaker, in DD channel- Shatranj ke Khiladi. We knows the value of DD only on such occasions while you find such gems once in a while when browsing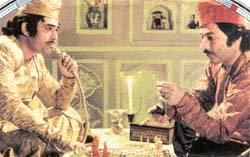 through channels.
It is a movie set at the times of first reevolution 1857. Avadh is the last egg that Company wants to add in their basket and they are planning to annexe the kingdom by hook or crook. Avadh's Nawab is a weak ruler interested more in poems and art fforms and totally ignores complicated politics. Slowly British is about to accomplish the task without shedding blood or without a shot fired.

Parallely another story runs. Two rich noble men, both great friends are looking for a place to play Shatranj, chess without being pestered by their household or social isues. A series of comic situations are unfolded and Ray shows us what the whole country was doing at thes
e times of trouble thereby helping Company indirectly in their mission.
The starcast is quite huge and the actor's work is commendable. Richard Attenborough stars as the shrewd Company General. Amjad Khan gives life to the role of weak Nawab, Sanjeev Kumar and Saeed Jaffrey portrays the role of chess players while Shabana Azmi and Fareeda Jalaal are their wives respectively. Farooq Sheikh acts as Fareeda's secret lover. Amitabh is the narrator of the story.

The movie although set in past gives a strong message to the present and future to learn from it. It is crystal clear when Sanjeev Kumar's character tells in the last scene- "after nightfall, we will go back home. We both need darkness to hide our faces." They knows they are doing a crime to their country and family by not doing their duties towards them, but they are so immersed in their vices that they cannot correct it.